Earlier masks were made of 100% cotton absorbent gauze or knitted fabric, which were costly to produce and used repeatedly. With the progress of technology and constant improvement, non-woven mask has been recognized widely by consumers and can be made of corresponding materials according to the field of use.
*Classification & Features
1.Classification :PP non-woven (surface layer)
Features:water repellent and breathable, non-toxic, wear-resistant
--Plane mask usually weighs 20-25g, foldable mask usually weighs 60-100g, all colors can be produced.
2.Classification :Melt-blown non-woven (filter core)
Features:super-fine filter, light and thin
--It can be customized to meet different filtering effect requirements, like ordinary,P1,P2, N95, KN95, BFE99 and PFE99.
3.Classification :Electrostatic cotton nonwoven
Features:absorptive and filtering, soft and feeling good
--In addition to absorption effect, it has enhanced the 3D effect of the mask and highlights its quality.
4.Classification :Hot air nonwoven
Features:soft and breathable, supporting and more solid
--Can be used as a substitute of Electrostatic cotton nonwoven (but without the function of absorption), relatively cheaper.
5.Classification :Activated carbon non-woven
Features:super-strong in absorption and filter, breathable, odorless
--With a super-strong absorption effect, it can effectively absorb all kinds of industrial waste gases like benzene, formaldehyde, ammonia gas and carbon dioxide.
6.Classification :ES nonwoven
Features:Smooth and free of fluff, hydrophilic
--The surface is flat and smooth, making it more comfortable to fit the face.
7.Classification :Printed non-woven (patterns can be customized)
Features:with bright and gorgeous printing effects, non-toxic and environment-friendly
--All kinds of patterns can be customized for different consumers to increase the added-value of products.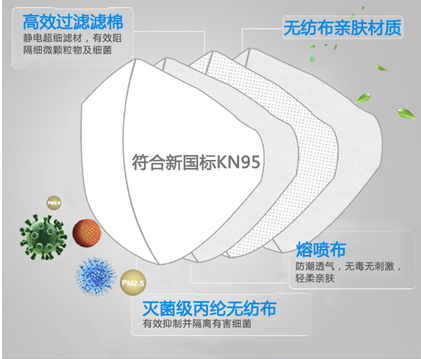 * Structure of foldable mask
1.Effective filter cotton
Static super-fine filter can effectively isolate fine particles and bacteria
Skin-friendly non-woven
Consistent with the new international standard KN95
2.Meltblown nonwoven fabric
Damp-proof, free of toxicity and irritation, soft and skin-friendly
Sterilization level polypropylene non-woven
Effectively checking and isolating harmful bacteria
*Types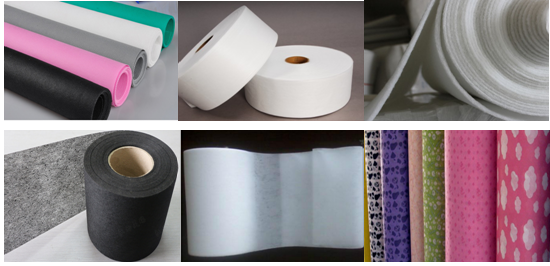 *Applications
△:disposable non-woven mask △: medical protective mask△:civil industry mask △:mask for children
For the various merits of non-woven fabric, the non-woven masks are highly isolated and breathable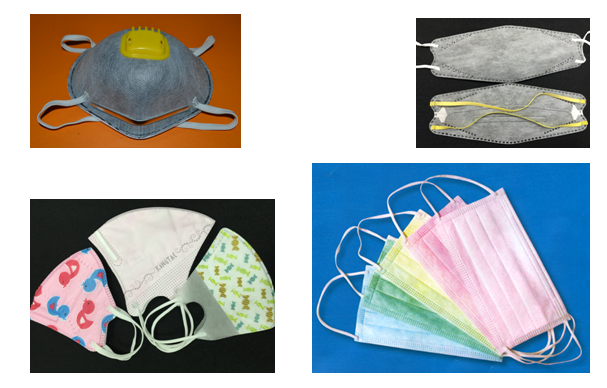 *Quality Standard