SMS non-woven (Spunbond+Meltblown+Spunbond Non-woven) is a spun-bond and melt-blown composite product with materials of PP chip and PP superfine fiber, which boasts advantages like a good evenness, a high strength and a good filtering performance. Grammage range: 9-100g/㎡, width: Split and cut randomly within 4,200 mm.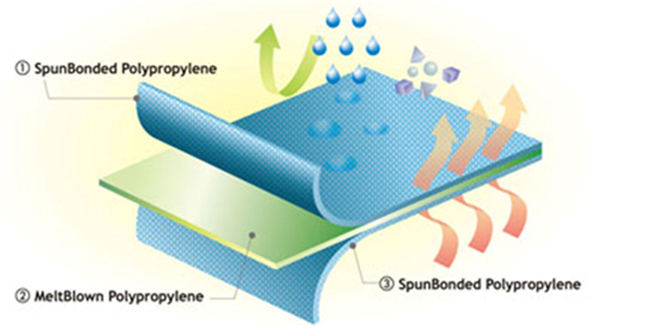 SMS non-woven is non-toxic and odor-less, highly proofing to bacteria. Through special processing with equipment, it can achieve performances like resistance to static, alcohol, plasma and hydrophilic.
1.Product Features
1. Light: Mainly made of polypropylene resin, with a specific gravity of 0.9 only, 3/5 that of cotton, it is fluffy and feels good.
2. Soft: Made of fine fiber, (2-3D) light-point hot-melt and bonded. The finished product is moderately soft and feels comfortable.
3. Water repellent and breathable: The polypropylene chips do not absorb water, and the finished product is excellently water-repellent, composed of 100% fiber, which is porous and excellently breathable, easy to keep the face dry and be washed.
4. Freedom of toxicity and irritation: The product is produced with FDA food-grade raw materials, which is free of other chemicals and free of toxicity, odors and irritation to the skin, with a stable performance.
5. Resistant to bacteria and chemical corrosion: Polypropylene is a chemically inactive substance, which is resistant to damages caused by insects, and can isolate the corrosion of bacteria and worms existing in liquid; resistant to the corrosion of bacteria and alkaline, the finished product's strength will not affected by corrosion.
6、Anti-bacteria property: The product is water-repellent and resistant to mildew, and can isolate the corrosion of bacteria and worms existing in the liquid.
7、Excellent physical property: Forming web directly from polypropylene spinning and thermo-bonded, the strength of the product is better than common short-fiber products. Its strength is not directional, with a similarity in its vertical and horizontal strength.

2.Uses
1.Fabrics for medical and hygienic materials: surgical gown, protective garment, sterilization wrapper, mask, baby diaper, women's sanitary towel, etc
2.Fabrics for home decoration: wall covering fabric, tablecloth, bed sheet, bed cover, etc.;
3.Clothing fabrics: Lining, adhesive interlining, flocculus, setting cotton, various synthetic leather base fabric, etc.
4.Fabrics for the industry: filtering materials, insulating materials, packing sacks for cement, geotechnical cloth, cladding, etc.;
5.Fabrics for agriculture: protective fabric for crops, fabrics for seeds breeding, fabric for irrigation, heat preservation curtains, fruit cover, etc.;
6.Environment protection materials: Environment protection products like filter non-woven fabric, oil absorbing fabric, etc